The former ICC Chairman and BCCI president N Srinivasan rejected the statements made by former Indian captain Dilip Vengsarkar during an event in Mumbai. Dilip Vengsarkar claimed that he lost his job as chairman of selectors for picking Virat Kohli over CSK's S Badrinath in 2008, courtesy the then BCCI treasurer Srinivasan.
"On whose behalf he is talking. What is his motive. Whatever it is, it is not fact. When a cricketer talks like this it is not good. His remark that I interfered in his not continuing is not a fact all. What is the point in saying it now," Srinivasan told reporters here.
"I didn't interfere in selection matters. What is the interference he is talking of," Srinivasan questioned.
"It has been brought to my attention through certain media reports that Dilip Vengsarkar, former Indian national cricketer has made some statements regarding me to the effect that his tenure as chairman of BCCI National Selection Committee was cut short by me because I did not agree with a particular decision of his in 2008," he further said.
"I have no animosity towards Dilip Vengsarkar, who himself was a beneficiary of the schemes initiated by me. India Cements in 1994, contributed Rs one lakh for his benefit match.
"To my recollection a large sum of money was given by Dadar Union Club (for which Vengsarkar and Sunil Gavaskar played) for its infrastructure at his request," he added.
"I have respected him as a cricketer and we treated him as a national hero. I am sorry that he talks like this," Srinivasan said of the former India batsman, who was nicknamed the 'Colonel.'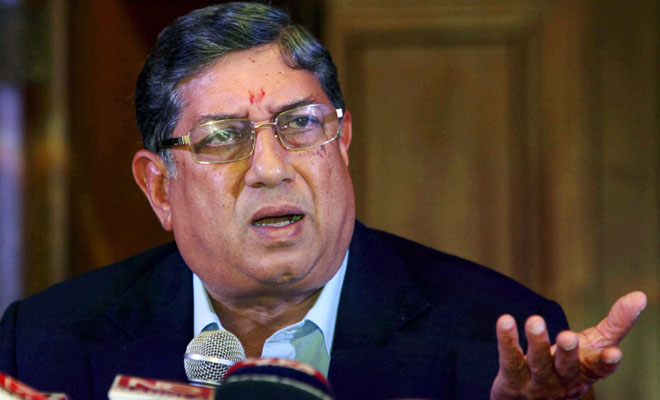 Srinivasan took strong objection to the statement made by the former Indian captain that one player being dropped in favour of another player in the squad for the tour of Sri Lanka in 2008. In fact, both S Badrinath and Virat Kohli made their debut in the tour of Sri Lanka.
"The allegation that one player was dropped in favour of another player who was selected for the Indian squad in the tour to Sri Lanka in 2008 which is the decision that allegedly resulted in his removal itself is not even borne out by the events in 2008 as both the players mentioned by Dilip Vengsarkar ultimately represented India in the squad in Sri Lanka," the former Board president said.
"At the AGM of BCCI in 2008, the reappointment of the selection committees and various other committees was taken up, as was the norm. At this time, Vengsarkar chose to continue as vice-president of Mumbai Cricket Association and hence could not be considered to the post in any of the selection committees," he pointed out.
"Vengsarkar continued as the vice-president of the MCA until 2010 and again in 2014 as he could not have been considered at all for the post of selector. The decision was clear – you can't be on both sides. This is a simple rule and he was aware of it. He is trying to create some controversy by suggesting that I was behind his removal when I was the treasurer of the BCCI," said Srinivasan.